Chairman's Message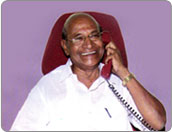 Dr. Babasaheb Ambedkar Mahavidyalaya has student centered intuitional development as a motto. We are committed to pursue academic excellence to develop a student with comprehensive technical knowledge and integrated personality.
We prepare students to think globally, act locally, involve individually and systemize institutionally to meet emerging industrial and social needs..
---
Principal's Message

Prin. Dr. Ramesh. M. Mirajkar
M.Sc, LL.B.,M.Phil.,Ph.D.

"We cannot always build the future for our youth, but we can build our youth for the future".
Remember "The reward of every good action will be good only".
About our Collage
Jayprakash Education Society's Dr. Babasaheb Ambedkar College (Arts and Commerce) was established in the year 1982. The mission of the Jayprakash Education Society which started this college is to provide facilities for education at educationally backward places of the Kolhapur district and to create general interest in education, particularly amongst members of SC, ST, Other Backward Classes and women. The college is located in a rural area within a 'reserved' constituency in a sprawling campus of 20 acres.
---
Walk in Interviews